Last Game Of The Year 2022
Our last paintball game of the year was held at Paintball Games in Coldstream (east of Melbourne) on the 30th of December. Organised by the Bushballers Melbourne paintball club it was a great day if a bit hot at times.
I took a number of markers with me, all electros this time. I used a MacDev Clone GTI from 2013 on the field but set up a couple of classic electros on the firing range for everyone to try out. One was an Indian Creek Designs Bushmaster 2000 and the other an Eclipse Smart Parts Shocker. Both of these markers were released at the turn of the century so are over twenty years old now. Neither is fitted with eyes and came out before force feed hoppers so don't have a particularly high rate of fire compared to today's markers.
Many of the younger players had never heard of them and were quite interested in trying them out. Both received favorable comments on how they shot particularly the Bushmaster which loved the field paint and shot laser straight on the day. But nobody liked the different stance required to hold either one because of their extra weight, drop forward ASA's and all the external hoses and gauges. None of this bothers me and I actually prefer markers fitted with a drop forward so I must be showing my age.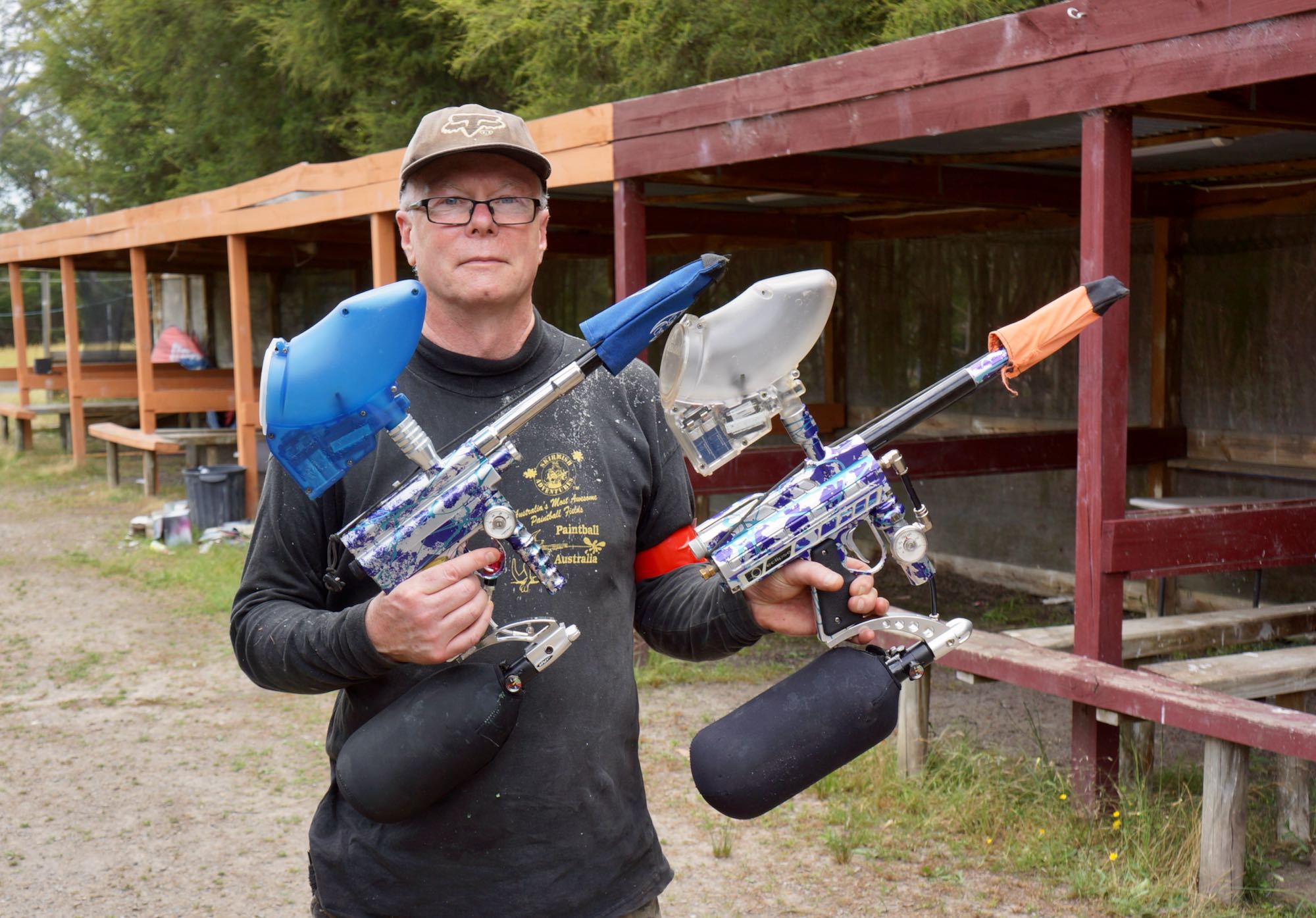 Speaking of age I had a monumental tumble during the first game of the day. I'm sticking with my story that it was a tree root but it could have just been clumsiness. It started with a series of stumbles and ended with a complete somersault. It must have looked worse from the other end because everyone stopped shooting at me as I lay there in the dust. Fortunately nothing was broken and after a short break to catch my breath I was back in the game. However I did take it a bit easier for the rest of the day.
Finally I'd like to thank Alex for the invitation and everyone else who turned up on the day. It's so nice to play a day of paintball without any of the politics or attitude that can come with the game. So I hope you all have a great new year, roll on 2023!