PMI-3 / VM68 Hammer O-Ring Upgrade
After the hammer o-ring on my PMI-3 broke recently I looked around for a replacement but found none available.
Just to recap, the hammer o-ring on the PMI-3 / VM68 is a special urethane o-ring that has flat sides. It looks more like a washer than an o-ring in many respects. Now it's been many years since spares were made and the remaining old stock has perished which puts owners in a bit of a bind. There was an alternative offered at some point that was cut from urethane sheet. I bought several of these from Palmer's Pursuit Shop many years back and was very happy with them. But unfortunately they no longer seem to be available.

New O-Rings
However there is light at the end of the tunnel. There is an attempt to remanufacture the original o-rings and several prototypes are currently in the testing stage. This project is headed up by Smiley Burke and my hat's off to him for the time and money he's put into it so far. But whilst this is a great long term solution it doesn't get my PMI-3 operational in the short term.
There is another way…
Now there is an alternative school of thought that says that if the original o-ring is no longer available, why not modify the hammer to take a standard o-ring? My first thoughts on reading about this modification were – was there an engineering reason for the original flat o-ring?
Either way a number of owners have modified their PMI-3s & VM68s with some having great success. Others however have had issues. And with the scarcity of parts this is not a modification that can be easily undone.
But since I had a spare hammer on hand I thought it might be worth a shot. The original post by Sean Mathews shows a hammer that Sean used a drill press and a Dremel to modify. Now I suspect that not everyone has the skill to pull this off with such basic tools. Perhaps this is why there were a number of failures.
The original post also suggested using a 7/16″ ID x 5/8″ OD x 3/32 wall o-ring. But after measuring everything up I thought a slightly larger 113 o-ring (9/16 ID x 3/4 OD x 3/32 wall) might be a more suitable candidate.
Dimensions…
My measurements for the tip of the hammer are as follows:
Outer diameter – .73″
Inner diameter – .55″
Depth of Groove – .090″
Width of Groove – .072″
Measurements for the 113 o-ring are as follows:
Outer Diameter – .75″
Inner Diameter – .562″
O-ring Thickness – .093″
Machining…
After some calculation I decided that all that needed to be done was widen the groove (on the buffer side) to suit the new 113 o-ring. Having a lathe made this a simple task though it did take some time to true up the hammer in the 4 jaw chuck. Then it was simply a matter of taking several light cuts and I was done.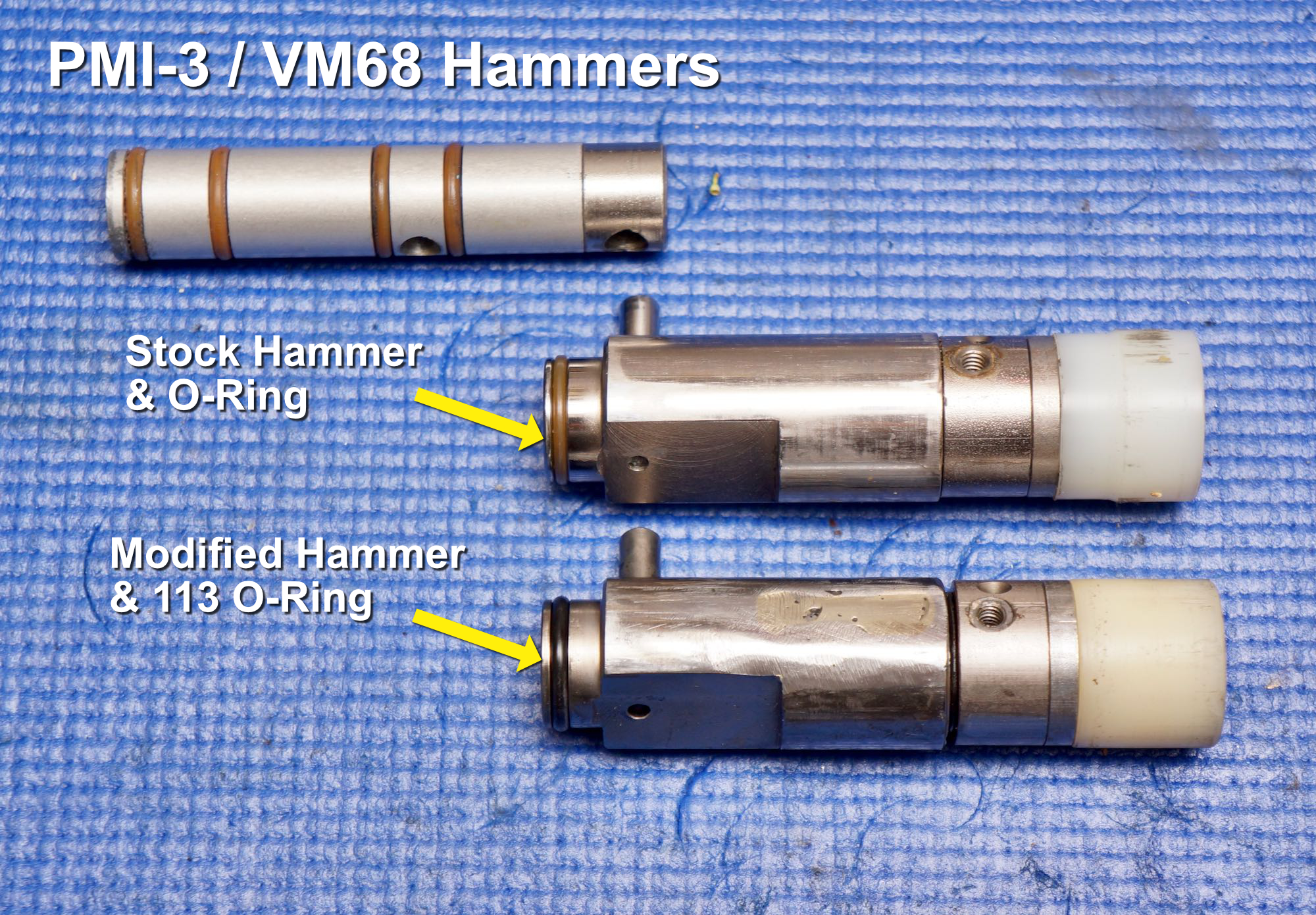 Testing…
So far the results have been positive. I've cycled my PMI-3 several hundred times with no problems. A possible future issue may be the stock standard nitrile 70 durometer o-ring that I'm using. The original urethane o-ring would have been both harder and longer wearing. Still, 113 urethane o-rings can be found if needed.
But only time will tell if this modification is a success. However I do see this as only a stop gap measure. This is because I'm loath to modify the original hammer if at all possible because it will reduce the value of the marker. Luckily I had a spare.