In the Spring of 1999 Indian Creek Design (ICD) released the Bushmaster 2000. This new electronic marker was named after its popular pump action predecessor from a decade earlier.
The Bushmaster 2000 is a ram actuated poppet valve design and is fitted with two regulators. A high pressure regulator (HPR) is used to set the velocity, whilst a low pressure regulator (LPR) supplies air to a solenoid valve which operates the ram. The stacked layout of the marker is very similar to a simple blow back design. The only major difference being that the hammer, sear and main spring have been replaced by a ram.
The Bushmaster was promoted by ICD at the time as a competitor to the Shocker and the Angel but at a more competitive price.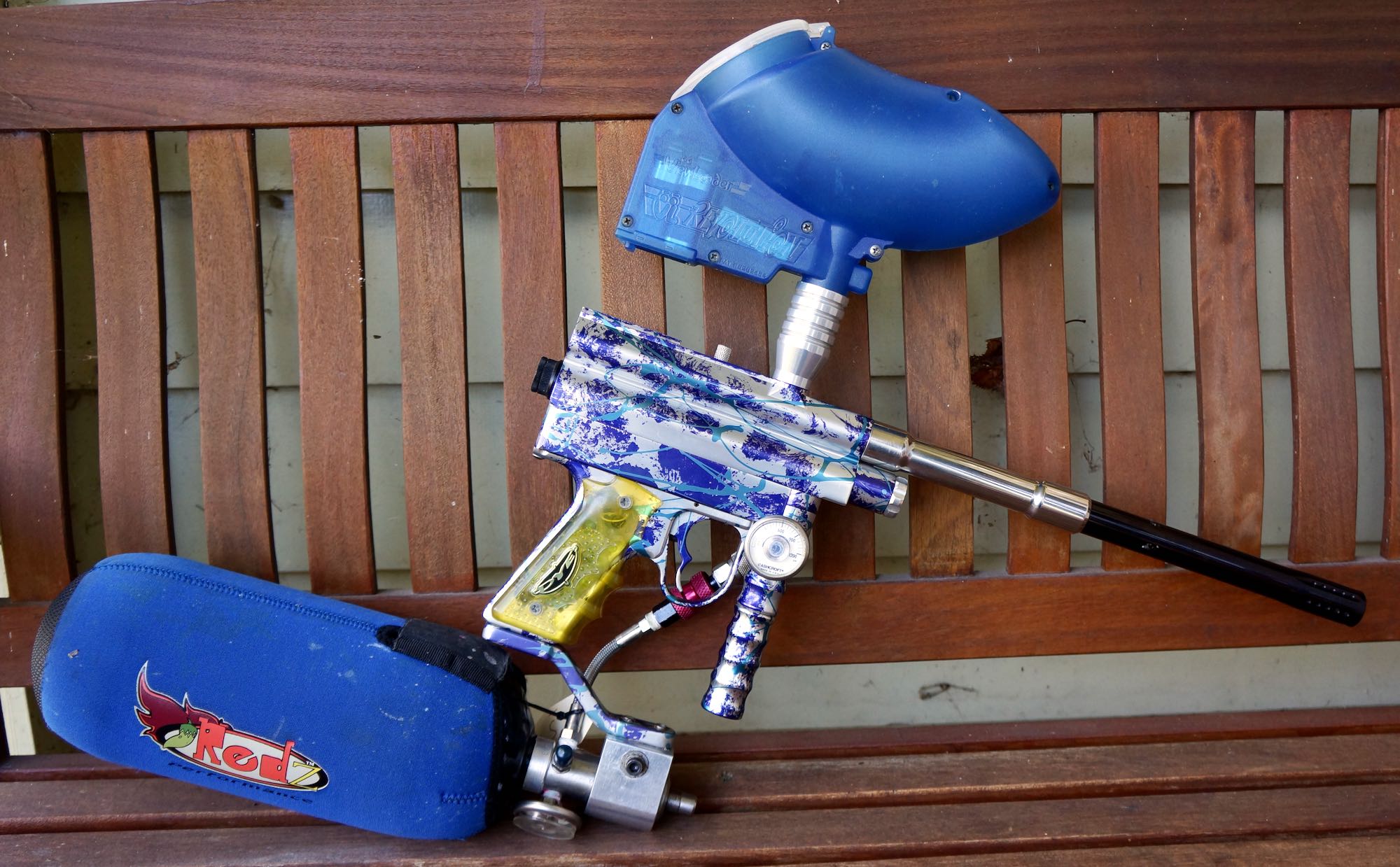 The early splash anodised Bushmaster 2000 shown in the first photo is fitted with a few period accessories. It has a Dye "Boomstick" barrel, Dye sticky grips, a high rise feed neck to aid feeding (no eyes on these early models) and a LPR adjuster knob.
Maintenance of the Bushmaster is straightforward with the only gotcha being the battery location. It was located between the upper body and the grip frame and required disassembly to change. Fortunately a battery door was fitted on later models.
The second Bushmaster 2000 shown is a later model Gen 10 and apart from the addition of eyes and milling is little changed from the original (the series II badges are non standard).
Finally, the last marker pictured is a Bob Long Defiant. The Defiant was a rebadged Bushmaster with a number of minor changes. The most notable one being the use of Cocker barrel threads.
The Bushmaster was replaced in 2005 by the Promaster.